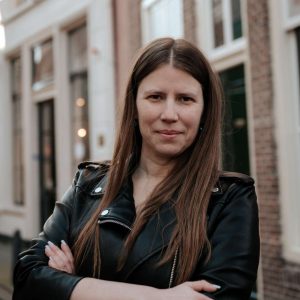 Juliana Oliveira, Senior Cabin Crew & CRM Instructor,
Freebird Airlines
Juliana Oliveira, Brazilian born and raised in Portugal. Having two nationalities, two cultures, arouse great desire to do more, be more and create a bigger impact not only on her own life, but those who she met.
In 2012, Juliana became a Cabin Crew and dedicated her path to growth. Focused in always achieving higher and never ceased to study, fight, sacrifice for what she thought was beneficial for her. From junior Cabin Crew to Crew Resource Management instructor, her path was marked by advocating for mental health, assuring each colleague was heard, seen, and felt they contributed. Juliana has an obvious sparkle for her job, assuring each passenger, colleague is well taken care of and having memories that will last.
Training is a big part of Juliana's path, as she knows how important is to be not only well trained, but motivated. She believes that aviation industry will go forward with motivated, well trained, and knowledgeable cabin crew. Cabin crew that believes they will make an impact and pass that impact to everyone they meet on the way.
Building Better Airline Training
Covid-19 caught aviation unexpected, changes had to be performed and more than ever, resilience was the top quality. Pandemic made cabin crew stay at home; uncertainty was evident.
Airlines could not promise a future anymore and that made possible for crew to reinvent themselves. This reinvention gave origin to new business, new hopes, and new opportunities. The biggest consequence was the skill and mental health decay. With no longer being able to believe in what the future holds, the job of a cabin crew suffered damage. What once cabin crew used to be, they are not anymore.
Their passion was substituted by something they still could be doing, and secure what was broken, their skill. Cabin crew mental health became fragile and affected. Crew was not anymore able to believe what they could do was effective or possible. As borders started to open, distance/e-learning became a reality and hope was added like a bit of salt in an unsalted food, enhancing the flavor. The reality then hit when cabin crew found themselves in a fragile situation; trying to remember, trying to not feel hurt by the circumstances and above all, trying to be seen. Frequently blur, frequently fearful, the future seemed now salted and coming back to work was now a stronger and closer reality. As the first flights were initiated, it felt almost like all had to be learned again. Exactly like a child learns to walk. Skill decay became distance, e-learning grew as a powerful tool and now the time to approach mental health has arrived.
For this presentation, I will be talking how it is important for each cabin crew to feel heard, valued, taken into consideration and how this will help to rebuild a better training system. The system goes beyond software or computers. The system is also those who belong.