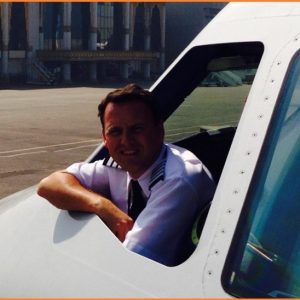 Colin Rydon, Group CEO/COO, Pilot Flight Academy
Colin Rydon is Chief Executive Officer and Chief Operating Officer of Pilot Flight Academy AS (PFA). PFA is headquartered in Norway and delivers commercial pilot training to students who wish to enter the world of commercial aviation as a pilot. PFA is regarded as one of the leading Pilot Academies in Europe with two bases in Norway and 1 base in Texas, USA. PFA currently have over 400 students and 100 employees.
Colin previously was employed at L3Harris where he was Vice President of Training. Colin was responsible for leading the training, standards and development for L3Harris across the global training organisation covering Academy and Airline training, whilst additionally managing the simulator training centre business with 3 global locations. In addition, he held the post holder role of Head of Training.
With an aviation career spanning 32 years, Colin has gained broad global experience in flight operations management, pilot training and regulation within all sectors of the aviation industry. Colin joined L3Harris from Flybe, once UK's largest regional airline where he held the position of Director of Flight Operations. Previously he held senior management positions at Jetstar/Qantas, easyJet and British Airways. Colin's management career was first built over 20 years at British Airways where he began as a cadet pilot and rose to Flight Training Manager on the largest global B747-400 fleet.
Colin has held UK/EASA, Singapore and Hong Kong Airline Transport Pilot Licences whilst being a qualified Instructor/Examiner and Senior Examiner on a broad range of aircraft for more than 25 years. He also holds an Executive Masters in Business Administration from Henley Business School. He has over 10,000 hours flying experience and has flown the Dash 8, A320, B737, B757, B767, B747-100/200 and B747-400 aircraft.
Colin is a Fellow of the Royal Aeronautical Society and has a keen interest in the development of the next age of aviation platforms and the growth in equality and diversity amongst all pilots no matter what their backgrounds.
A New Model of Ab Initio Pilot Training
'Why not be different?' What does the future training model look like and what is stopping us today?
Following the challenges of the last two years what have we learnt regarding the training of ab initio commercial pilot students and how can we improve further from the lessons we have gained? During this presentation we will share our feedback and experience of remote/virtual/distance learning and how that might shape our courses in the future. We will also look at how to cope with skill decay of instructors and students following an extended period of time off flying and finally look at the effect on mental health and consequential impacts on recruitment. As the industry recovers we need to get back to making flight training fun, whilst delivering a great educational experience along with introducing a broad professional experience. We, at Pilot Flight Academy, think we have the model that suits both the student and the client airline. We need to recognise that the next generation of pilots have different needs and we need to adapt to help them achieve their goals whilst delivering the 'right stuff' to the airlines. This presentation will show some of the approaches Pilot Flight Academy are taking now and in the near future whilst embracing the feedback and learning from the last two years. We wish to help build a stronger industry post pandemic.