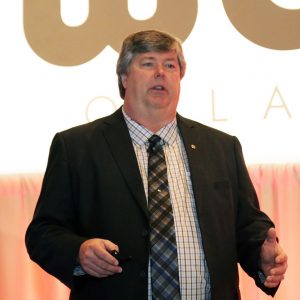 Scott Nutter, Principal, Touch & Go Solutions
(Retired GM Pilot Learning & Development, Delta Air Lines)
Scott Nutter is a thirty-five veteran of the aviation industry. After graduating from Embry-Riddle Aeronautical University in 1986 with degrees in Aeronautical Science and Aviation Management, Scott's piloting career began as a CFI and charter pilot. He spent next fourteen years in business aviation in positions including First Officer, Captain, Chief Pilot, Aviation Department Manager, and Senior Demonstration Captain for an aircraft manufacturer.
In 1996 Mr. Nutter joined FlightSafety International as a ground/simulator/aircraft instructor. Aside from instructing, he developed curricula as the company transitioned to the FAA's newly-implemented FAR part 142 and earned one of the facility's first TCE authorizations.
Scott was hired by Delta Air Lines in 1998 as an instructor and curriculum developer on the MD-11 program. That led to positions of increasing responsibility in Standards, Compliance, Contract Training & Sales, and Learning & Development. Mr. Nutter managed the Delta Aircrew Training Center from 2005 to 2012 overseeing all aspects of pilot training conducted under FAR 142, JAA/EASA (TRTO), CCAR 142, and numerous other NAA certifications. During this time DATC trained pilots from over thirty countries.
As General Manager – Research, AQP and Development, Scott was accountable for the systems and processes associated with Delta's Advanced Qualification Program (AQP), training curricula and courseware. His responsibilities included e-learning programs, training technology, video production, training compliance, instructional system design, and measurement & evaluation systems. His team also delivered New Hire Pilot and Instructor/Evaluator Indoctrination programs.
In addition to FAA pilot and instructor certificates, he holds professional certifications from the American Society of Training and Development (ASTD), International Society for Performance Improvement (ISPI), and American Society for Quality (ASQ).
After retiring from Delta in 2020, Scott formed Touch & Go Solutions, a consulting firm focused on improving people, processes, and performance in high consequence industries. He lives in the Atlanta area with his wife Gigi, one horse, a donkey, a goat, and a small pack of dogs.
Lessons Learned from 30 Years of AQP
In the late 1980s, a group of bold dreamers at major airlines partnered with a visionary at the FAA to develop a regulatory framework that would forever change air carrier pilot training in the US. The goal was simple, create a system of training that was superior to traditional FAR §121 methods and would improve safety. In 1991 the Advanced Qualification Program was born with the publication of SFAR 58 and AC 120-54. Fast forward to 2021, 28 US airlines and over 90% of US air carrier pilots train under an AQP.
AQP is built upon five pillars: Instructional System Design (ISD), data-driven training, Crew Resource Management (CRM), Quality Management Systems (QMS), and Innovation. What have airlines learned after three decades of integrating these disciplines into pilot training? What are the successes, and where were the failures? What is the state of AQP in 2021? These questions and more will be explored during the presentation as well as highlighting the "shared DNA" of AQP, EBT, and CBT/A programs.