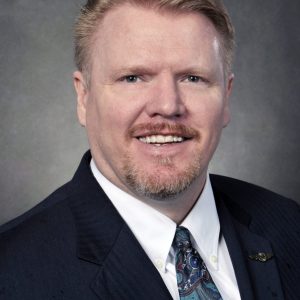 Carl Davis, Director, Global Air Crew Operations,
Boeing Test & Evaluation
Captain Carlton (Carl) Davis is executive director of Global Air Crew Operations, part of Boeing Test & Evaluation Flight Operations. He is responsible for leading over 100 employees who work directly with more than 400 customers around the globe to deliver training and flight operations support for Boeing's 737, 747-400 and -8, 777, and 787 airplanes. Captain Davis was named to this position in September 2019.
Prior to this role, Captain Davis served as the director of Air Crew Operations for Boeing Global Services, overseeing the flying pilots that delivered entry-into-service and line assistance training to Boeing customers, along with Flight Technical & Safety and Cabin Safety personnel. Before that he was chief pilot for Pilot Services for Commercial Aviation Services, where he was responsible for recruitment, training, and deployment of a team of instructor pilots, focusing on long-term pilot placements after the initial "entry into service" flights were complete. Prior to that, he was 787 fleet manager for Boeing Flight Services. He ensured pilot training on the Boeing 787 Dreamliner simulators was staffed with qualified instructors across five global campuses. He first moved into management as assistant chief pilot for Flight Crew Training and was an instructor pilot on the Next-Generation 737, 747-400 and 777.
Before joining Boeing in 2005, Captain Davis was a domestic and international pilot for Delta Air Lines, flying the Boeing 727, MD-88, 757 and 767 models in commercial service.  Having held a variety of positions throughout his early career in general and corporate aviation, he holds type ratings in the B-737, B-747-400, B-757, B-767,  B-777, B-787,  MU-300, BE-400, CE-500, DA-20, DC-9. He also holds a Flight Engineer Certificate with Turbojet rating as well as Advanced and Instrument Ground Instructor certificates.
As a diversity and inclusion advocate, Captain Davis teaches classes in support of Boeing Global Diversity and Inclusion programs across the enterprise, promoting the concept of diversity education to foster a more inclusive work environment.
Captain Davis attended the US Naval Academy as well as Indiana State University. He has a bachelor's degree in General Studies/Business from Schreiner University in Texas, as well as a Master of Science degree in Leadership, with distinction, from Embry-Riddle Aeronautical University. Carl is a member of the Board of Trustees of the Aviation Accreditation Board, International, and a member of the Aircrew Training Policy Group in Europe. Additionally, Carl became a Fellow of the Royal Aeronautical Society of London in 2019.
Trends in Aviation Training and Projections for Pilot, Technician and Cabin Crew Demand
Demand for newly qualified aviation personnel remains robust – even in the wake of the Covid-19 pandemic, with more than 2.1 million new pilots, maintenance technicians and cabin crew expected to be needed over the next 20 years. Commercial aviation continues to be resilient, with air travel a critical enabler to global commerce and people's desire to travel, visit family and friends, explore the world and build relationships.
As the commercial aviation industry navigates near-term recovery challenges and returns to long-term growth trends in the coming years, Boeing presents its analysis of the commercial aviation market and projected demand for new aviation personnel needed to support its anticipated growth.
Boeing will provide its unique OEM perspective in identifying current trends in aviation training to help meet future personnel demand, enhance aviation safety and improve efficacy of learning for the next generation of aviation professionals. Some of these trends include increasing collaboration with operators to better understand and address specific operational needs in training, designing and building more immersive and engaging training solutions, increasing industry adoption of competency-based training and assessment principles, and development of new solutions and more inclusive training programs that offer individually tailored learning opportunities.