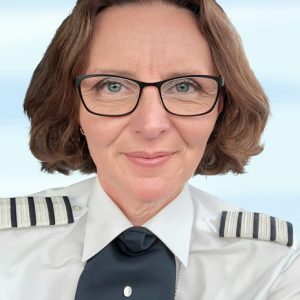 Helen Heenan, KURA Human Factors
Helen was educated at The Ladies' College in Guernsey, and obtained her commercial pilot's licence from the Cabair College of Air Training in January 1999. In May of that year she joined Jersey European Airways, the airline that later on became Flybe.
Following 7 years as a First Officer on the Dash 8 and BAe146, she gained her command on the Q400 in 2006, and in 2007 she joined the CRM team as an instructor delivering recurrent CRM training to flight deck and cabin crew. Returning from a maternity break in 2013, she then began delivering the more comprehensive Initial Operator's CRM training for both Flight Crew and Cabin Crew.
In 2016 she was appointed the Head of the CRM training department. In this role Helen led, trained and managed a team of 12, and was responsible for the creation and delivery of all the initial and recurrent courseware for the company's 1700 aircrew, many of whom were new recruits to commercial aviation. She was invited to sit on the company Training Policy Group to ensure that course materials were responding to identified training needs.
Her work has been acknowledged by the UK CAA as 'The most engaged class observed for a very long time', and from external clients as 'The best delivery of CRM I've ever seen'.
Helen remained at Flybe for over 20 years, until when in March 2020 she was made redundant following the sudden collapse of the regional airline.
She now works as an independent training consultant, specialising in all aspects of CRM training, and the Application of CRM/Human Factors Principles in other Safety Critical Industries.
This includes, but not limited to:
Refreshing and modernising CRM training, within airline, corporate and ATO organisations.
Providing training and examining of CRMTs in accordance with CAA Standards Document 29.
Training of CRMT Examiners in accordance with CAA Standards Document 29.
Providing, as per CAA Standards Document 24A A8.13, the additional training required for staff delivering any Human Factors training to flight crew as defined in Part-Ops and the aircrew regulation, and in accordance with the guidance defined in CAA Standards Document 29.
Providing specialist consultancy in Safety Critical Industry, by applying the skills and lessons learned within aviation to those operating in, and managing, dynamic, high risk environments where staff and customer protection is paramount.
Helen's focus is on how training can be most effective. She has the ability to identify learning opportunities from a wide range of industry academic research and thinking, and combined with her own experiences and those of others, turn them into straightforward concepts. These in turn get adapted to suit the applicable training environment, with bespoke training plans designed for both the structured classroom, and coordinated with the practical application in the operational environment.
A Startling Predicament
With the recent regulatory requirements for UPRT in Flight Crew Licensing, it is not 'surprising' that the topics of Startle and Surprise are almost synonymous with aircraft upset, and associated Loss of Control.
But, are they synonymous? Or are they independent, individual topics in their own right, that just happen to frequently overlap into the UPRT domain?
The advanced UPRT course requires training both in theoretical and practical awareness of the stress response, surprise and startle. However, it is of course possible to be startled, and/or surprised without an associated upset situation. By focussing within the UPRT syllabus, do we run the risk on placing too much emphasis on their affiliation and hence considering them as parallel tasks? Should they be considered as part tasks, to be managed sequentially, prior to exploring how they mostly, but not always, appear together?
The question is often asked, can it be trained? Well, the first hurdle is to identify what 'it' is.
Current literature mainly focusses on training the Prevention, and/or Recovery from an undesired aircraft state, namely the Upset of the Machine.
Do we put enough focus into the Upset of the Pilot? Can it be prevented? Or do we need to train the Recovery from an undesired cognitive state?
In this session we will examine further the research conducted by the NLR for EASA, and evaluate the effectiveness of the acronym ROC. We will combine this with the underlying philosophy of mindfulness, go back into history and the Apollo 11 space mission, whilst also considering the majority psychometric demographic of both pilots and training personnel, to examine if we can identify a simple training objective that works.